Bio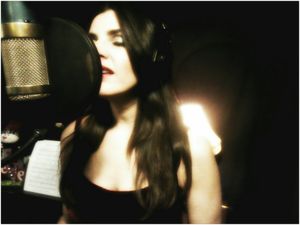 Influenced by her parents' love of the crooners and the lush harmonies of the Andrew and McGuire sisters, as well as her own addiction to rock 'n' roll of the 70s and 80s, and a later-blooming love for the story-song prose of country music, it's no wonder LaLa Deaton's songwriting has forayed into all three genres.
LaLa's love for music became apparent to her mother when she noticed her toddler had an ear for melodies and harmonies. That love for music led to LaLa's participation in symphonic, orchestral, jazz and marching bands, choirs, ensembles, show choirs and musical theater, and ultimately took her to Nashville at the age of 18 to attend the prestigious music school, Belmont University, where she acquired a degree in Music Business. After graduating, LaLa took a job and had a successful career in journalism, but couldn't avoid the calling back to her first love… music.
Armed with a dream and some original songs, LaLa began recording her pop, country and big band jazz originals and released her first pop/country EP, "Dare," in 2016. This Christmas, she is gearing up to release her next creative work, an already industry-praised, all-original, 1940s-style, big band Christmas album, "Christmassing: New Classics for the Old Soul."
LaLa's music has been featured in film and TV and her songs have been recorded by more than 20 artists across multiple genres. Her music has been included in New York Times Bestselling author Mitch Albom's (Tuesdays with Morrie) Spotify playlist as well as on the website of world-renowned Law of Attraction author and speaker, Bob Proctor. 
LaLa has played everywhere from the famed Bluebird Cafe since 2006, hosting her own rounds, as well as playing 75+ writers nights/year in Nashville and around the country.
In 2018, she made her debut on the Grand Ole Opry performing with Charles Esten, (Deacon on the hit tv series, "Nashville") and has returned to perform on the Opry several times in the last two years. When she's not making her own music, you can find her doing session work, touring and singing gigs with other artists. Lala's music is available on itunes, Spotify and at www.laladeaton.com.
"Music has always been a huge part of my life for as far back as I can remember. I've been singing since I was 2. I always wore my heart and emotions on my sleeve until I figured out that I could put them into song instead. Music is therapy, and not just for me as a writer, but for the listener who can connect with the emotion or experience coming through in the song. So many songwriters have touched me through their music without ever knowing me, and that's powerful! A song can lift you up, make you cry, take you someplace you've never been or back to a time or place you never thought you'd remember. I'm so thankful for the privilege to share mine with you. Thanks for listening." - LaLa Deaton

To purchase Lala's music, visit the MUSIC PAGE.